RTD-I-TX2RS
RTD-I-TX2RS is an industry grade router for 2G/3G mobile network providing one Ethernet and two RS232 interfaces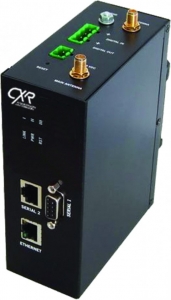 RTD-I-TX2RS is a 2G/3G Quad-Band mobile network router that delivers Ethernet and RS232 serial interfaces.
It enables network interconnection and remote site connection through the mobile network with secured VPN, IP-Sec or Open-VPN protocols.
RTD-I-TX2RS is an industrial grade product with extended temperature range.
It perfoms metering and control processes at any point of an infrastructure with 2G/3G network coverage.
It connects to Ethernet and RS232 serial equipment, as well as to digital input and output signals.
Mobile network security and availability are increased thanks to a dual SIM card design.
RTD-I-TX2RS comes in a robust metallic enclosure with DIN rail mounting and a 12 - 48 Vdc power input.
Mobile network 
Quad Band 850 / 900 / 1800 / 2100 MHz
GSM / GPRS / EDGE
UMTS / HSDPA / HSUPA up to 7.2 Mbps
2x SIM card slots and 2x antenna with SMA sockets
Communication interfaces 
1x 10/100BaseT Ethernet port
2x RS232 serial ports
1x digital input and 1x relay output
Protocols
RIP, NAT/PAT, DHCP, DYN-DNS, VPN, IP-Sec, Open-VPN
SNMP, http, CLI, ssh, NTP
Environment
DIN rail metallic box: 50 x 135 x 104 mm
Operating temperature : -25 to +70 °C
Power supply input range : 12 to 48 Vdc
RTD-I-TX2RS-25     router, GSM / GPRS (85 kbps max)
RTD-I-TX2RS-275   router, GSM / GPRS / EDGE (236 kbps max)
RTD-I-TX2RS-35     router, GSM / GPRS / EDGE / UMTS / HSDPA / HSUPA (7.2 Mbps max)