MX200-TTX
The MX200-TTX is an interface converter deployed at the edge of a G703 E1/T1 line or network providing a point-to-point interconnection for voice with an E1/T1, LAN with a powerful 10/100BaseT bridge and miscellaneous applications with an RS-232 port. Users can select without restriction any TS of the link with cross-connect capability on the D&I port.

The Ethernet bridge of the MX200-TTX is manageable, can be pinged over the LAN and is VLAN transparent. When a limited number of TS are allocated for the Ethernet transport, the Ethernet bridge can filter the traffic and compress the Ethernet frames.
The MX200-TTX can utilize framed or unframed links over n E1/n T1/PDH/SDH networks. These are single point-to-point links over DSL, FO or microwave.


A basic multiservice application for the MX200-TTX is to connect two sites over a G703 network and providing voice circuits to a PBX, a LAN connection and remote control of RS-232 devices.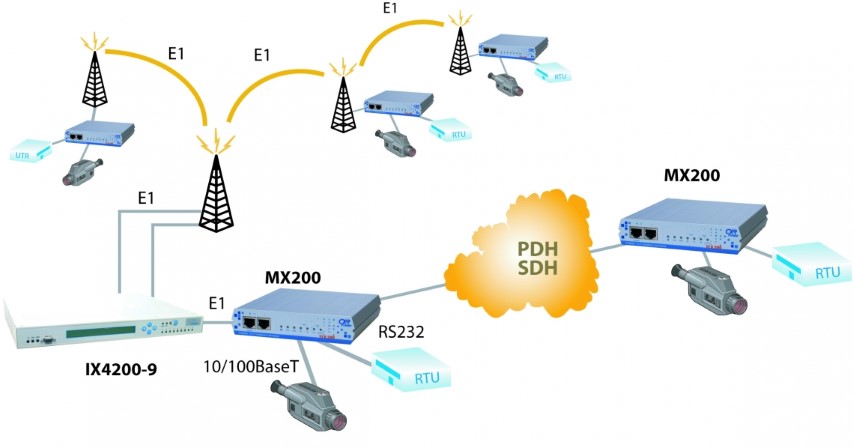 The MX200-TTX can also be daisy chained together to distribute applications like IP-Video or at the edge of n E1/ n T1 PDH network. The MX200-TTX is compatible with the CXR IX4200 and QX3440 to concentrate and interconnect site for voice, LAN and serial applications.
MX200TTX and CV200-TTX support different HDLC and PPP WAN protocols and are compatible with many third party equipment.

Specifications:
Line interface:
G703 4 wire set up as E1 or T1
Interface: 100/120 Ohms w RJ45 and 75 Ohms w BNC
Transmission: G703 unframed 2Mbps/1.544Mbps or G704 framed n 64K/56K
TS allocation free for each interface to the trunk
Customer Interfaces:
1 E1 or T1 G703/G704 Drop & Insert
TS cross-connect between WAN E1/T1 and D&I E1/T1
Dual Interface 100/120 Ohms and 75ohms over RJ45 (cable 2BNC in option)
1 Ethernet 10/100BaseT
Transparent bridge
Or filtering up to 1000 address
VLAN transparent
WAN Protocols: HDLC, and PPP
1 RS-232/ V24
asynchronous 38.4Kbps over 1 TS
Terminal Server transport
Power options: 230 VAC or 48 VDC
Consol port configuration: Telnet over LAN or WAN,
SNMP with graphic MIB for SNMPC with GET and TRAP