HX9416R
HX9416R-6U is the STM-16/OC-48 grade multiplexer in the CXR HX-9000 range of products.
This high density modular product delivers two STM-1/4/16 or OC-3/12/48 aggregate SNCP rings, and up to height STM-1/OC-3 or two STM-4/OC12 sub-rings with MSP (1+1) protection.
It embeds a VC12, VC13 and VC4 cross-connect engine that makes it a multi-service SONET / SDH multiplexer for E1/T1/E3/DS3 and Gigabit Ethernet services with QoS and protection functions.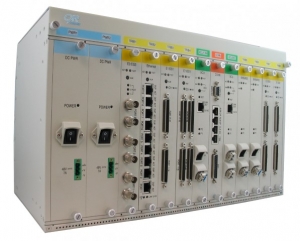 X9400R-6U can host 8 tributary cards to deliver up to:
252x E1/T1 with 1+1 protection or 378x unprotected E1/T1
24x DS3/E3
32x 10/100BaseT and 8x 1000BaseT Ethernet
8x OC3/STM1 MSP 1+1 protection
8x OC3/STM1 SNCP rings
4x OC-12/STM-4 with MSP 1+1 protection
2x OC-12/STM-4 SNCP rings
HX9400R is a ADM or TM multiplexer. It has 4x SFP sockets to service SONET/SDH aggregate structures such as:
2x STM16/4/1 - OC48/12/3  SNCP rings
1x STM16/4/1 - OC48/12/3 SNCP and MSP(1+1) rings
2x STM16/4/1 - OC48/12/3 MSP(1+1) bus
or a combination of a Bus and a Ring
HX9416R can concentrate up to 20 physical interfaces and 48x VC4 payloads.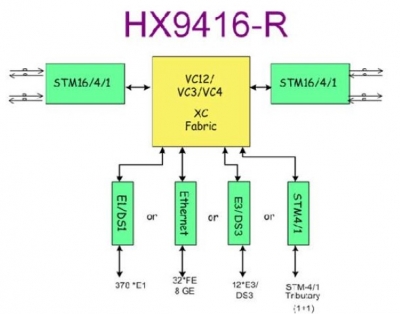 HX9416R is used in many different networks of telecoms operators, transport (railway, airport, etc.), Utilities, or Defense organizations as a SONET/SDH backbone for Voice / Data / Video / Ethernet  services.
HX9416-R relies on up to date SONET/SDH technologies with GFP/VCAT and LCAS protocols for best and predictable performance, SLA, security and resilience for Ethernet and IP services over SONET/SDH with Point to Point and Point to Multi-point topologies and VC12/4/3 granularity.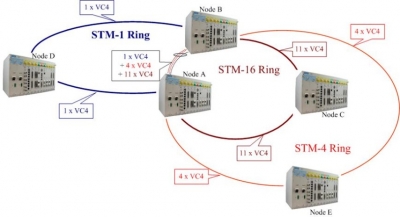 Up to 16x VC4 with SNCP ring protection can be multiplexed on a physical STM16/OC48 trunk.
CXR offers a basic SNMP management system - CXR-View graphical software, or a fully featured system with provisioning functions, CXR-iNMS.