HX9100-3U
The CXR HX9100-3U is a modular New Generation SDH which can be used as an ADM (Add and Drop Multiplexer) with ring SNCP/UPSR and/or MSP protection or as a TM ( Terminal Multiplexer)» with MSP protection. This equipment can be used in a Ring, Star, Bus or Point-to-Point configuration to distribute up to 112 E1/T1, 12 E3, 12 DS3 or 12 Ethernet ports using EoSDH.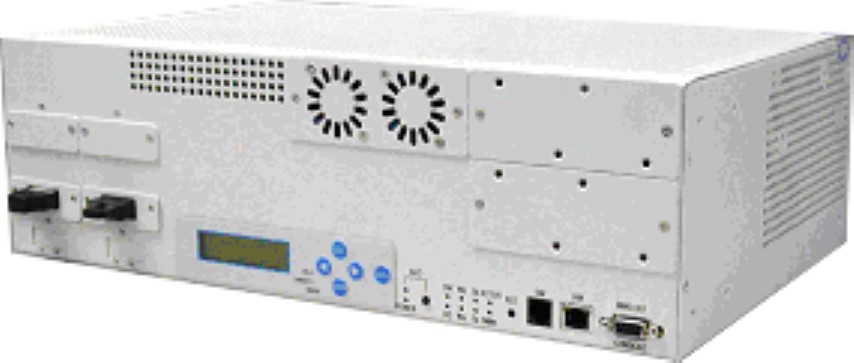 The HX9100-3U is a 3U 19'' fully modular ETSI or ANSI platform except for the mother board which provides 4/20/28E1. 3 slots are available for power supplies, 3 slots are for 28 E1, 1/3 E3, 1/3 T3, 4 Ethernet bridge or 4 Ethernet switch cards.
Four optical or copper interfaces STM1 gives it the following aggregate possibilities:
One Ring 2 fibers with Ring SNCP protection
One Ring 4 fibers with Ring SNCP and MSP (1+1) protection
One Bus 4 fibers with Protection MSP (1+1) in serial or Star configurations
Two STM1 Terminations or one with MSP (1+1) protection.
Ethernet transport is supplied by a 4 bridge port -QTTX card that supplies up to 12 point-to-point links or E-Line links. A 4 switch port –SW4TTX card can provide up to 12 E-Line or 12 E-LAN links or multipoint LAN over SDH or mix of both. The Ethernet links are transported in the NG SDH system in EoS mode with optimization and dynamic reservation of bandwidth. Each link has a bandwidth of n VC12 or n VC3 up to VC4.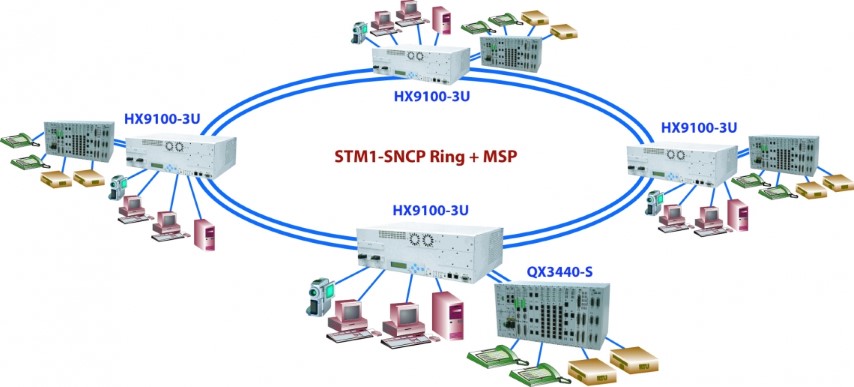 The HX9100-3U is particularly suited to aggregate the uplink interfaces from TDM/PDH muxes like the QX3440 in Transport/Energy/Defense networks and to transport a 155 Mbps pipe with protection.
HX9100-3U main specifications are:
ADM Add and Drop Multiplexer SDH STM1- 155 Mbps, TM or 2 x TM Termination Multiplexer Transport of VC4 (150 Mbps) , VC3 (E3/T3), VC12 (E1),
Tributary
4/20/28 E1/T1 on mother board,
28 x E1 or T1 card,
1 or 3 E3, 1 or 3 T3 cards,
4 x10/100BaseT Ethernet Bridge card,
4 x10/100BaseT Ethernet switch card,
3 AC or DC power,
Optical modules 2/30/50/60/100 km,
Optional Ring Protection SNCP/UPSR,
Protection MSP (1+1),
Administration over DCC channel or SNMP/Ethernet port,
Performance and Alarm Monitoring
Management system: option of CXR-view or CXR-INMS.