HX9100-1U
The CXR HX9100-1U is a New Generation SDH multiplexer which can be used as an ADM (Add and Drop Multiplexer) or TM (Terminal Multiplexer) to support 2 STM1 or one with 1+1 protection.

It can be used in a Ring Bus or point to point network applications to transport and distribute TDM/PDH E1, T1, E3, DS3 and Ethernet in EoSDH with GFP and VCAT modes and LCAS protocols.
The HX 9100-1U is a preconfigured system, except for the FO and power supply, with a large choice of configurations. This "pizza" box is very compact, "1U" high and fits both a 19'' or 23''shelf.
Two aggregate fiber/copper interfaces can be used in ADM mode (1 STM1 East and 1 STM1 West) with Ring SNCP protection or in single TM mode with MSP (1+1) protection or in dual STM1 TM.
Ethernet transport is supplied by a 4 bridge ports -QTTX card that will supply 4 point-to-point links or E-Line links. A 4 switch ports –SW4TTX card can provide 4 E-Line or 4 E-LAN or multipoint LAN over SDH. The Ethernet links are transported in the NG SDH system in EoS mode with optimization and dynamic reservation of bandwidth. Each link has a bandwidth of n VC12 or n VC3 up to VC4.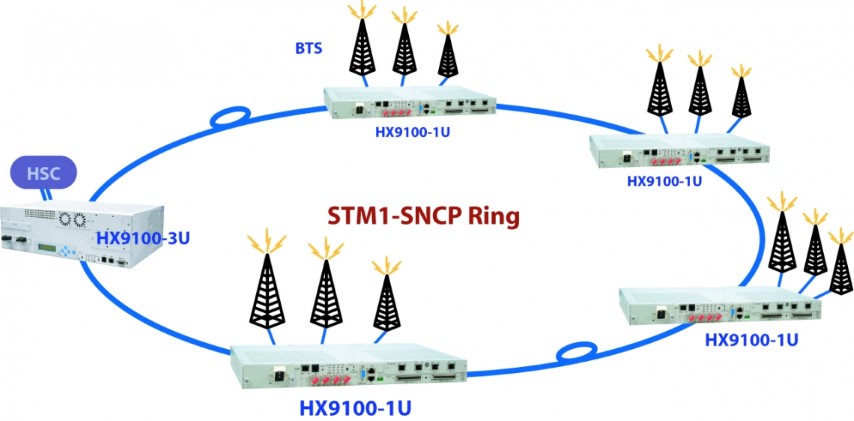 The HX9100-1U is very effective and economical in deploying voice or GSM/GPRS or PMR over ring or star configurations. It is also used with Ethernet cards to populate an IP distribution for Wifi/Wimax networks with high speed protection system.
HX9100-1U Main specifications are:
ADM SDH STM1- 155 Mbps,
TM or 2 x TM STM1,
Transport of VC4 (150 Mbps) , VC3 (E3/DS3), VC12 (E1),

Tributary
4/20/28 E1/T1 on mother board ,
Additional 28 x E1/T1,
Additional 1 or 3 E3,
Additional 1 or 3 T3,
Additional 4 x10/100BaseT Ethernet bridge,
Additional 4 x10/100BaseT Ethernet switch,
2 redundant AC or DC power,
Optical Modules for 2/30/50/60/100 km,
Optional CO Ring protection SNCP/UPSR,
TM MSP (1+1) protection,
Centralized management over DCC or Ethernet,
Performance and alarm Monitoring
Managements System in optional CXR-view or CXR-INMS.