IGW-6TGX-APCTR
IGW-6TGX-APCTR is a secured Internet access gateway and an Ethernet WIFI Access Point controller

IGW-6TGX-APCTR enables Internet access for a large number of users from an Ethernet or WIFI access point in community environment such as hotels, university, hospitals, conference centers, airport, hot-spot.
Gateway performs Authentication, Authorisation and Accounting functions, and traffic routing to the Internet access. Embedded Firewall with ACL, DoS protection and L7 packet inspection guaranties secured and controlled user connections and traffics. 
IGW-6TGX-APCTR is a WIFI Access Point Controller with automatic AP detection and configuration.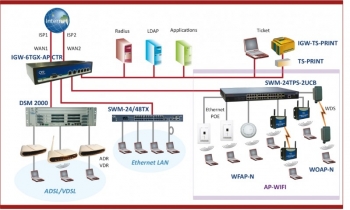 Monitoring and control functions are displayed by a graphical software with details on the network load, user activity and IP address allocation.
IGW-6TGX-APCTR gateway works with a comprehensive range of access products such as ADSL / VDSL DSLAM and CPE, WIFI Access Points with all kind of integration format, and in-door and out-door environment classes.  A ticket printer kit enables login - password ticketing with defined availability for hotel requirements.
IGW-6TGX-APCTR gateway can serve up to 500 simultaneous user sessions through two WAN / Internet Gigabit Ethernet ports. Several gateways may be cascaded to increase capacity.
Gateway 
6x 10/100/1000 Ethernet ports: 4x LAN and 2x WAN with load-balancing 
500 simultaneous users
5,000 user accounts 
8 user domains
Radius, LDAP
Proxi DNS
QOS, VLAN
Firewall, NAT, DoS protection, ACL, L7 packet inspection
Controller
120 WIFI Access Points
Roaming between Access Points
User connection accounting and configurable ticket printing
Environment
Size:243 x 150 x 45 mm 
Operating temperature range : 0 à 55 °C
Power supply: 12 Vdc inpout and 110-230 Vac mains converter
IGW-6TGX-APCTR       Internet Firewall Gateway and Access Point Controller
TS-PRINT-2DB9          Intellingent Login-Password ticket print server
IGW-TS-PRINT-DB9   Mini-printer for Login - Password tickets 
WFAP-N-TPDTX-CT     WIFI Access Point, Wall plug format, POE fed 
WFAP-N-TGX-CT         WIFI Access Point, ceiling mounting, POE fed