FO-E1T1
The FO-E1T1 is a fiber optic modem for Telcos to deploy in the local loop as well for enterprise in all types of network applications. A pair of these modems can distribute or extend MIC E1/T1, PRI, E1/T1 G.703 or G704 over fiber, provide an interconnection to a PBX or work in many other applications transparently.
The FO-E1T1 can also be used in framed mode n x 64Kbps to interface with a serial modem FO-SERIAL X21/V35 and to distribute a leased line or interconnect a router to TDMPDH/SDH networks.
In unframed mode the pair of modems are plug-and-play. The FO-E1T1 comes with multiple physical G703 interfaces: 100/120 Ohms (RJ45) or 75 Ohms (BNC). It is a short/long haul modem 300/1600m and it is compatible with many other G.703 vendor equipment 2.048/1.544 Mbps.

Running in G703 mode, the FO-E1T1 is transparent to all protocols or type of content. No setup is required and it carries the data and the clock co-directionally between PBX or BTS and MSC like a single cable.

The FO-E1T1 also works in framed mode to provide n 64Kbps interfaces towards a distant serial modem the FO-SERIAL (FO-SE11 X21/V11, FO-SE35 V35, FO-SE28 V24/RS232), or with the older generation FO8011, FO8035 or FO8028 or ISDN S0/T0 with FO-4BRI or FO84BR.
The FO-E1T1 is synchronized by an internal or external clock or co-directional on the line.
The FO-E1T1 can be configured with several fixed fiber optic interfaces or with a SFP module.
Specifications:
E1 – 2.048 Mbps: transparent mode G.703,
E1 - G704 n 64 kbps: framed mode G704,
T1 - 1.544 Mbps: transparent mode G.703,
T1 - G704 24 x 64 kbps,
Electrical interfaces: 120/100 ohms RJ45 and 75 ohms 2 BNC.
Management through consol port or Ethernet port in Telnet or SNMP.
Logical GUI- MX-CFG.
Metallic box AC, DC 48 or 24v,
Rack card for 19'' chassis AMS4 and AMS16 SNMP.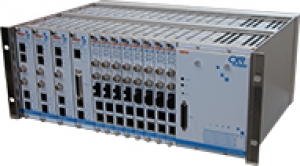 FO Interfaces:
Fixed Multi Mode 2km, ST connector,
Fixed Single Mode 30km,SC connector,
Modular fiber with SFP, temperature normal/extended,
Single mode 30/60/100/120km with pair of fibers 1310/1550nm LC connector,
Single fiber WDM 1310/1550 SC connector,
SFP CWDM with single fiber up to 30/60km Lambda from C9 to C18 or 1430 to 1610 nm.