FO-4E1T1
This 4E1 or 4 T1 multiplexer over redundant 1+1 optical fibers (with SFP) is combining together TDM links carrying 4 E1 or T1 payloads, and next generation Ethernet traffic.
The FO 4E1T1 can be used by Telcos for 2G/3G/4G transport, in utilities and transportation infrastructures, or in enterprise campus environments to carry voice and Ethernet traffic.
This fiber optic modem transparently transports 4 clear channel E1 G703 or T1 with their fully independent clocks. It is particularly useful when interconnecting PBXs and enterprise LANs, connecting mobile BTS to MSC, or extending interfaces from PDH/SDH nodes.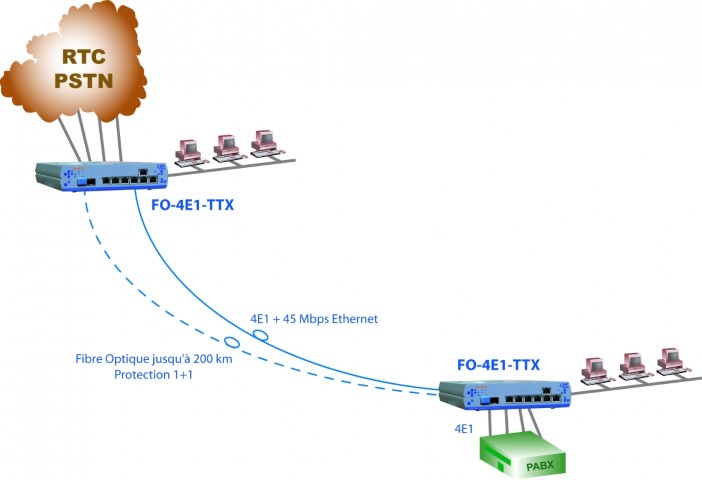 The FO-4E1T1-2TTX has two redundant interfaces to provide for full 1+1 protection. These interfaces use a large range of standardly available SFP modules, covering distances from 2km to 200km, or with single WDM fiber (1310/1550nm) or colored CWDM fiber to multiplex with other optical links.
The FO-4 E1T1-2TTX is provided with two Ethernet 10/100BT interfaces to carry Ethernet / IP payload traffic, and provides full administration duties utilizing TCP-IP and SNMP. The Ethernet data is carried in IEEE802.1D bridging mode with QoS based on DSCP of IP frames.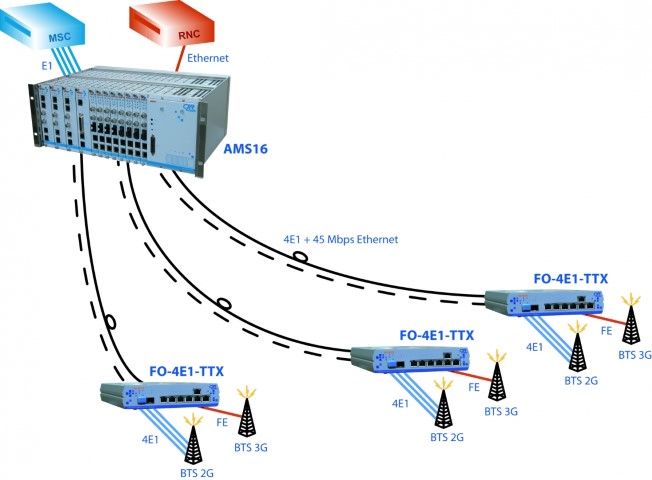 Telcos are using the FO-4 E1T1-2TTX to connect 2G/3G BTS over a single fiber for payload traffic, together with the added ability to provide for equipment administration via Ethernet.
The FO-4E1T1-2TTX is available in desktop versions, AC or DC48v / 24v, or in rack card for AMS4 or AMS16 chassis ,with SNMP management.
The RACK-2-UNIVERSAL can fit two modems in a standard 19" rack.
Specifications:
Transparent transport of G.703 links over optical fiber,
4 E1 - 2,048 Mbps for E1 MIC, E1 ISDN-PRI, G.703 or G.704 for voice and data,
T1 - 1,544 Mbps for T1 or TI ISDN-PRI links,
4 electrical E1 or T1 interface 120/100 ohms w RJ45 in FO-4E1T1R-2TTX model
4 electrical E1 75 ohms w/ 8 BNC in the FO-4E1T1B-2TTX model
Dual 10/100BaseT Ethernet bridge w/ QoS, and a throughput of 45Mbps.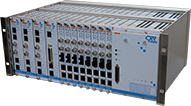 Modular FO Interfaces with SFP:
Dual slots to provide for redundant 1+1 interfaces
SFP modules: Multi-mode up to 2km, or Single-mode up to 30/60/100/120km,
Or single fiber SFP WDM 1310/1550,
CWDM lambda 80km Lambda, from 1430 to 1610 nm.
Others:
Single shelf with AC or DC powering (48vdc or 24vdc)
Rack card for 19" chassis AMS4 or AMS16 SNMP,
Free GUI software: MX-CFG