DSV2024
DSV2024 is a mini IP DLSAM complying with VDSL2 standard aimed at delivering very high speed Triple Play Internet access over telephony cables

DSV2024 is a compact VDSL2 IP DSLAM with a capacity of 24 VDSL ports. It performs traffic multiplexing and aggregation from 24 subscribers to an Internet router through two copper or optical Gigabit Ethernet / IP interfaces with Link Aggregation.
It complies with the VDSL2 and ATM standards to deliver symmetrical 100 Mbps bandwidth to each subscriber. It provides backward compatibility with ADSL2 services. Voice splitters are embedded for cost effective and direct connection to the PBX or dial-up network.
DSV2024 is a layer 2 Ethernet switch and an ATM / PPPoE  DSLAM. User traffics are isolated into VLANS with Bandwidth and Quality of Service controls to differentiate multiple classes of stream (Internet, voice, video). Up to 8x ATM VC carries the Ethernet/ IP traffic to the remote user. IGMP enables video stream control.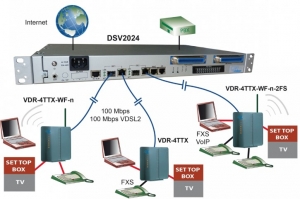 DSV2024 brings Internet access services in community environments -hotels, campus, etc. It is a cost effective solution for very high speed Internet Service Providers.
DSV2024 is managed through CLI commands, Snmp or a user friendly Web interface. It is a compact 19'' product with either a 110-230 Vac mains or 48 Vdc power supply input.
VDSL 

24x VDSL2 ports, G.993.2
ADSL2 backward compatibility, G.992.3/5
100/100 Mbps symmetrical VDSL2 throughput 
Ethernet / IP transport over 1 to 8 VC ATM
Rate limiting Nx 32 kbps
Embedded Voice Splitters 
Ethernet

2x Gigabit Ethernet ports, 10/100/1000BaseT RJ45 and optical SFP
1x Ethernet port, management
1x RS232 port, management
Protocols
STP, RSTP
802.1Q VLAN
IGMP
QoS, Flow Control, Priority Queuing on 4 queues per interface, rate limiting
Trunking, LACP
802.1X, DHCP relay
Environment
Size: 482 x 304 x 44 mm 
Operating temperature: -40 to +65 °C
Power supply: 110-230 Vac or 48 Vdc
DSV2024-AC           Mini-DSLAM, 24 VDSL2 ports, 2 GbE RJ45 and SFP ports, 2x Telco-50 connectors, 110-230 Vac power input
DSV2024-DC           Mini-DSLAM, 24 VDSL2 ports, 2 GbE RJ45 and SFP ports, 2x Telco-50 connectors, 48 Vdc power input