CV-E3T3-TTX
The CV-E3T3-TTX is an Ethernet bridge connected over an E3 or T3/DS3 clear channel G.703 link.
This converter is used to deliver 100BaseT with 34/45Mbps over TDM networks by Telcos, ISP and in the enterprise environment.
The CV-E3T3-TTX is connected directly to the E3/DS3 output (takes a full VC3) of a SDH/SONET switch or theE3-34 Mbps or T3/DS3-45Mbps interface on a Microwave Radio.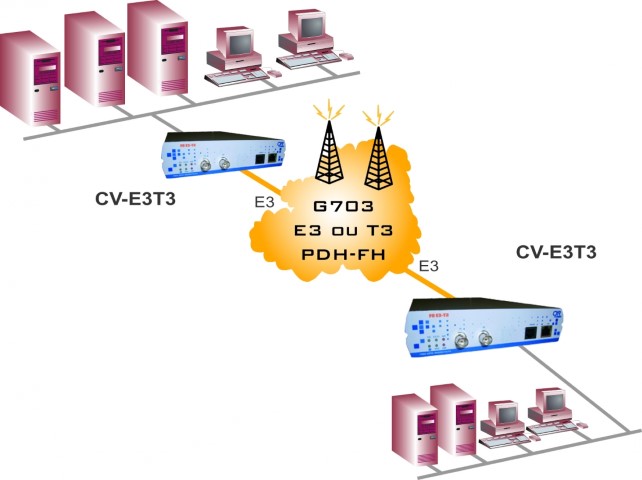 If the distance is too great, an E3 connection to the LAN can be extended by replacing one or two sides of the CV-E3T3-TTX with a pair of FO-E3T3-TTX and fiber optic cable.
Specifications:
Physical Interface: 2 BNC 75 Ohms,
User defined software setup for E3 34 Mbps or T3/DS3 45 Mbps modes,
Unframed E3 or T3/DS3
Ethernet bridge 10/100BaseT auto-sense with HDLC WAN protocol
Transparent IP, IPX and VLAN,
Desktop version in metal box or rack card for AMS4/16,
AC power or DC from 36 to 72 Volts,
Management through the consol port or Ethernet (Telnet or SNMP),
Temperature alarm relay.