6411 6434
Digimodem 6411 and 6434 are 2B+D Basic Rate ISDN Adapters that enable asynchronous and synchronous communications over the ISDN network as well as interworking with the voice telephone network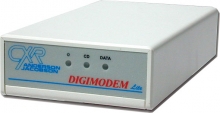 Digimodem 6411 / 6434 is an ISDN adapter for 2B+D So Basic Rate Interface access. The range of products enables all kind of digital communications with asynchronous and synchronous protocols as well as interworking with equipment connect through the voice switched telephone network thanks to an embedded V21-V34 modem over B channel.
6411 - 6434 supports most ISDN asynchronous rate adaptation protocols such as V14, V110, V120, PAD X25, PPP. Synchronous transfer is made through HDLC and B/D frame relaying modes.
6411 adapter provide always-ON X25 access over the D channel, or ultra-fast X25 connection to B channel at 64 kbps rate.
6434 rack card enables asynchronous communication grooming in a 19'' chassis. It embeds a Fax Group 3 and V21 - V34 multimode modem that raise performance of remote metering, data collecting, monitoring and remote control application to any type of remote device connected on the dial-up, ISDN or mobile GSM network. 
6411 and 6434 Digimodem adapters comply with ETSI EuroISDN network protocol standards. 
ISDN
So Basic Rate ISDN access, 2B+D
RJ45
ETSI Euro ISDN
DTE RS232 Interface
RS232, mini-DIN or RJ45
300 to 115,200 bps
Asynchronous or Synchronous
Flow control
Extended AT Commands
Protocols
Asynchronous modes: V14, V110, V120, PAD X25, PPP
Synchronous mode: HDLC
Environment
Compact desktop or rack-mount card for AMS4/16 19'' chassis
Desktop power supply: 5 Vdc input and 230 Vac adapter
| | | | | | | |
| --- | --- | --- | --- | --- | --- | --- |
|  Reference  |  ISDN  | RS232 | Async | Sync | Modem/B | Format & supply |
| 6411-FTAF | 1x So | 1 | Yes | - | - | Desktop & 110-230 Vac adapter |
| 6411-FTSF | 1xSo | 2 | Yes | Yes | - | Desktop & 110-230 Vac adapter |
| 6411-BTAF | 1xSo | 2 | Yes | - | - | Desktop & 110-230 Vac adapter |
| 6434-FMRF | 2xSo | 2 | Yes | - | Yes | Card for AMS4/16 chassis |